The Intuitive Anatomy Adventure Begins!
Mood:
happy
I've arrived in Idaho Falls & am so happy to be here!!! This is exactly where I am supposed to be...for many reasons - a few of which have shown themselves already. More on that later...(including the flood!)
I've decided to start a blog (my 1st!) so that you can join me on this amazing ride...I will do my best to write every day with highlights of the class and the ongoing adventure that is the (my) ThetaHealing life! My hope is that my experiences & insights may benefit you in the Highest & Best way possible.
I have a beautiful view of Snake River and the LDS temple...the geese walk right up to my window every day to say hello...I just watched the sun rise, which means I am actually up that early - my husband may fall over when he hears this! He has been trying (said on purpose) to persuade me of the beauty of this time of day & how it may be the time for me to be writing that book...well, I think it's begun!

IA-Day 1: Parasites Parasites Parasites! Yikes - Time to cleanse friends!!! Bacteria, Viruses, Fungus - Oh My! (think Wizard of Oz tune) Remember the following connections: Bacteria-Guilt; Virus-Worthiness; Fungus-Resentment when you are working on yourselves.
Who/what drains you..."sucks the life out of you"???...dig, find what is underneath & change it. Let go of everything that does not serve you - find out how it did & release it. "Let go laughing" (Sugarland)
Resentment, guilt, worthiness, anger - take up SOOO much space & energy - change them & watch your life transform, become energized & excited about life again!
Last but NOT least, surrender to the path of Least Resistance (no pun intended but that's how God works

), remember Divine Timing (there's a future Play Group topic) & allow yourself to trust Creator and move with the Flow...life is meant to be easy & joyful...so Enjoy!
Have a beautiful, magical day!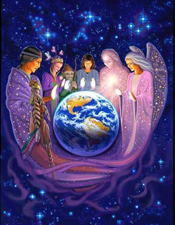 Posted by Janet at 8:53 AM EDT