"Learning to Connect with the Spirit World"
3-Part Audioclass: 4/18, 25 & 5/2 ((If you can't listen live, classes will be recorded!)
Learn the basic principles of the Spirit World and connecting with the "Other Side"...how to notice signs, identify/resolve blocks, open your channels to receive ~ practical exercises/meditation you can continue to use at home.
Whether you are a healer who would like to include this profoundly healing work with your clients, an aspiring medium, or have lost a loved one and would like to feel their presence, you are welcome.
We are so much more than these human bodies...we are forever.
Join us and explore.
Contact Janet to register or for more information.
(856) 435-2713
**************************************************************************************
There is an unseen world all around us...
filled with Light, Love & Healing.
Angels and Archangels are wonder-full beings from this heavenly realm, along with Ascended Masters, Spirit Guides, departed loved ones and other loving, supportive energies. This "Divine Support Team" wants to assist you in any way possible...to create and live the life you desire, filled with joy, happiness, peace, abundance, laughter & above all, Love. According to the Law of Free Will, however, they must wait patiently, to be asked into your life...what are you waiting for?
Janet began working with the Angels when they began to appear to her during healing sessions with clients and also in dreams and waking times, asking her to also teach people of their presence and how to connect with them. She then became a certified Angel Therapy Practitioner® by Dr. Doreen Virtue, which led her to become aware of her mediumship abilities and to realize that this was a very important piece of her life's work. These abilities, which had been closed down since childhood opened up and transformed her life. Further advanced mentorship with Doreen Virtue and John Holland helped her in understanding & using this gift. Using her own natural intuitive abilities, channeling & mediumship skills, she acts as a conduit (a "telephone" of sorts!) for your connection to this incredible realm...bringing messages, guidance and practical tools for you to use in all aspects of life - discovering your true life's purpose, communicating with deceased loved ones, finding answers to questions about romance, finances, career, relationships, health and more...no question is too large or too small.
Angels are non-denominational...they come from a place of Spirit and the messages we receive from them are always positive, supportive, empowering and from the Heart...filled with Unconditional Love. They are with us always, simply waiting to be asked to assist us, support us, protect us & love us exactly as we are.
Communicating with loved ones who have "crossed over" into the Light can bring deep comfort to a grieving heart and great joy in the knowledge that we do not die just because the physical body ceases to live on this plane at this time. Janet's ability to offer this connection is seen by her as a sacred honor & an amazing gift for which she is eternally grateful.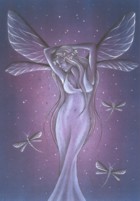 Testimonials:
"Janet - the reading you gave me was such a beautiful experience and I know that ______ was present by the things that you passed on that he said. There is no way it could have come from you alone. I am hoping you will give me another reading soon." L.S.
"We all had such a wonderful time at the Angel Party. Because we are all so busy, it gave us a great excuse to have a "girls' night out." Each of us felt so moved by our readings, and it was so fun to talk listen to everyone as they got done. You truly have a gift, and I know we were all so happy to experience it!!!"
"Janet, as you know my Dad passed away eight years ago a couple of months before my Wedding. Words can't describe how much I miss him and wish he could know my two little girls. If someone told me I could have one wish it would be to talk with him one more time. When you told me that my Dad was in the room, I could feel in every fiber of my body that he was there. Having you be able to pass on his words to me is a gift I never thought I could have. You told me things that only he would know, and passed on his witty words in a way that only he could do. Thank you doesn't seem worthy of enough expression, but it's all I have. Your gift has touched me so deeply and helped me come to terms with things that I may not have been able to otherwise. Thank you! Thank you! Thank you! You truly are an angel here on earth!" Patricia E. Gibson!"
"I think you're an amazing clairvoyant and medium!"
D. Castle, Award-Winning Singer/Songwriter/Composer
"Thank you so much for the beautiful Angel Session last week. I am still reliving it frequently. It was wonderful to get my questions answered and to move through my lesson with ease. It has been lovely embracing ease, as I consciously choose to do each day. Thank you so much for so generously bringing the messages through to me." M.L.
Services
Angel Readings:
An Angel Reading is a simple, easy way to connect with the angelic realm and talk to your Angels, Guides and the Ascended Masters. These wonder-full Beings of Light provide messages specifically for you, with the loving intention of helping with everything from personal inspiration to spiritual guidance to answers to everyday problems and concerns (romance, career, finances, life purpose, health, etc.) - nothing is too big or too small...they are there to help you in whatever areas are needed. In giving Angel Readings, Janet uses oracle cards along with her intuitive and channeling abilities to relay to you, messages of support and guidance. Angels always speak from a "higher" place of love...their messages are always compassionate, empowering & uplifting.
Personal information shared with Janet is confidential and will never be shared with anyone. Janet's intention is always to relay the Angels' messages with love & compassion and to provide you with information, guidance & practical tools to bring greater peace, joy & purpose to your life.
* Private Angel Parties can be scheduled for groups of 5 or more - see below.
Angel Reading Parties:
Using oracle cards and channeling of the Angels, readings are provided to the group (5 people minimum) on a personal, one-to-one basis, with each reading lasting 20 minutes each. An introductory talk is given, providing information about our "heavenly helpers", explaining how the readings work, and answering any questions the group may have. A collection of fun, divining tools (cards, pendulums, etc.) are also provided for an evening of fun as well as enlightenment, exploring the world of "Inner Wisdom" and intuition that is natural to us all!
Cost: $55 per person.
Note: *Host/ess receives a gift of free Oracle Reading Cards.:)
Additional travel costs may apply depending upon distance.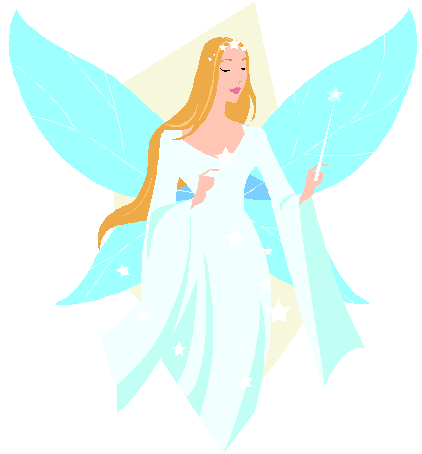 Angel Healing Sessions:
During an Angel Healing Session, Janet uses her natural intuition, channeling, oracle cards and other metaphysical tools to connect with the heavenly realm, in order to receive messages and guidance from Spirit & the Angels (and possibly other guides, loved ones, Ascended Masters, etc.) specific to each person's needs. Life questions, issues, concerns & blockages (from the past, present, or regarding the future) may be addressed, with answers received and clarity obtained. The focus may be on a specific question(s) or life area(s) or simply left open to receive the divine wisdom, guidance & healing that would be most beneficial at that moment in time. Angel Healing (techniques are employed as guided and additional healing modalities such as Reiki, color, visualization (and others) may also be incorporated, depending upon the person's specific needs and what occurs during the session.

Mediumship Sessions:
Janet holds a safe, loving, sacred space in which she connects you with relatives, friends and loved ones (both human and furry:)) who have "crossed over", acting as a "bridge" for you to communicate with them to find answers to questions you may have, as well as receive guidance from them as you desire, or simply to experience a loving time of "re-connection" and confirmation of the knowledge that we are eternal spiritual beings in physical bodies...love lives forever.
Angels, Ascended Masters and Guides may also join in the "conversation" in order to add wisdom or information if it is the Highest place to do so. The primary focus of this type of session, however, is communication with the spirit world and Loved Ones in the Light.
"We are so much more than just physical bodies. We are spiritual beings who happen to be wearing a human "costume" for a little while. Truly, we are forever."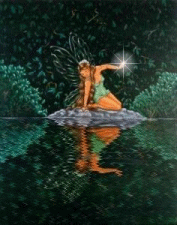 Faerie Readings:
Is your life filled with Magic & Sparkles? If not, why not?!!
Let the Faeries and the Elemental Realms help you to rediscover the Joy & Fun in your life...Increase Self-Esteem & Confidence...Manifest Powerfully Without Limits...Receive Guidance & Support in all areas of life.
Remember that Magic is Real...It's time to give your Inner Faerie permission to Come Out and Play!!! :)
The Faeries are always excited to be of assistance in a light-hearted, joyful & empowering way...helping you to find your way...and bringing Magic, Joy & Abundance to your Life in ways you can only begin to imagine!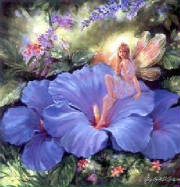 Suggestions for a Positive Reading...